It is difficult to imagine a comfortable home without a bathroom. This is a place for hygiene, relaxation and stress relief. The main problem of arranging a bathroom is size. It is difficult to compare the design and functionality of a room with a few square meters. But the way out of this situation appeared thanks to the shower. Cabins are not only more practical and more convenient than bathtubs, but they also take up much less space.
Bathroom design with shower and toilet: modern ideas
Small bathrooms are considered to be rooms ranging from 3 sq.m to 4. They are equipped with open showers installed in a rectangle or corner.
The simplest idea is to buy a shower cabin built into the corner. But this option has long gone out of fashion. In addition, inexpensive models are very short-lived. Often, mold forms behind the back wall and in the seams.
Today, independently equipped shower areas with ceramic tile walls and glass partitions are gaining the most popularity.
On a note!

As a rule, small bathrooms have a combined bathroom. Therefore, the main thing in the design of a small bath is space saving and a visual increase in space.
Today, one of the popular trends in the design of a small combined bathroom is:
Installing a wall hung toilet. This model, along with practicality, is economical and compact. Allows you to use the wall above the toilet for additional placement of hygiene products.
The location of the washing machine under the sink will significantly save space.
Installing spotlights instead of hanging ceiling lamps will not only illuminate the room more functionally, but also make the ceiling visually higher.
Properly selected colors will visually enlarge the space.
Using a locker with a built-in mirror for storing small items.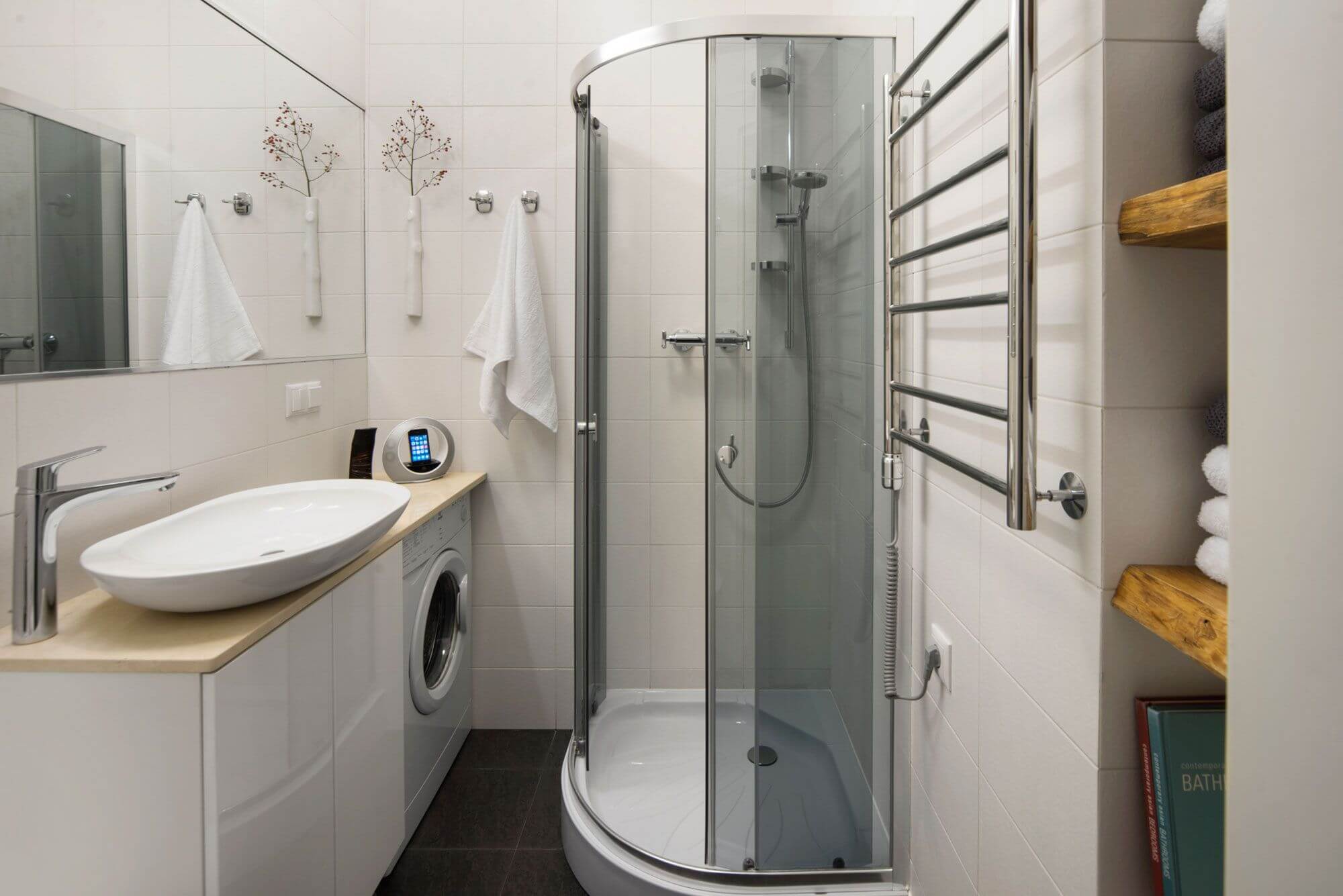 A bathroom with an area of ​​4 sq.m and more greatly facilitates the layout of the bathroom. But this does not mean that you can mindlessly force space with interior items.
Note!

It is desirable to equip the design of a large bathroom, maintaining a single style.
A large area of ​​the bathroom gives vent to fantasy. Increasingly, owners are resorting to zonal division of space. In addition to placing a bathroom and a place for water procedures, it is possible to distinguish between storage space for accessories and a relaxation area in which you can place a couch or chair.
When arranging a large bathroom, styles are most often used:
Spacious bathrooms often use a double-vanity countertop. In addition, they put a bidet and a hygienic shower. And if the combined bathroom is the size of a full-fledged room, then it is possible to install both a shower cabin and a bathtub.
Interesting bathroom design with shower and bathtub
With a bathroom size of 6 sq.m, it becomes possible to equip a real spa with a bathtub and a shower cabin separately. Although some owners manage to squeeze both into smaller rooms.
On a note!

In this case, the bathroom will look overloaded.
Increasingly popular today are gaining options with a free-standing cast-iron bathtub and a tiled shower. A cast-iron bathtub keeps the water temperature longer, a home-made shower fits better into the interior, compared to a finished shower cabin.
But if square meters do not allow, a real find for those who like to soak in warm water in the evening and take a contrast shower in the morning will be a combined shower with bathtub.
There are several basic forms of cabins combined with a bathroom:
Corner baths with shower. Suitable for those whose fantasies are limited by the area of ​​​​the bathroom.
With shaped bowl. A great option for owners who prefer soft lines and non-standard solutions in the interior.
Rectangular. The most common option. Suitable for lovers of the classics. Available in standard sizes.
Note!

As practice shows, in the presence of both baths and cabins, they still use the shower more often.
Therefore, most owners are now moving from the usual baths to showers, given that the latter significantly save space and allow you to place not only a toilet bowl, but also a washing machine in the bathroom.
Bathroom with shower, toilet and washing machine
Often, a shower cabin is installed in the corner of the room or along the entire length of one of the walls.
In the first case, this is more practical, since usually the corners in the washroom are not used, and a shower cabin in a small bathroom is a real find for the owner of several square meters as a bathroom.
The second option is most often used if the room has an elongated size, the width of which is much less than the length.
Despite the fact that a washing machine is an essential thing in every family, today it is fashionable to hide household appliances as much as possible. The easiest way to hide the washing machine is by installing it under the countertop, next to the sink. But this arrangement is not always possible.
Sometimes the shower cabin has to be installed along the wall behind the door. In this case, the sink is located opposite the door, the toilet is in the corner, and there is a place for the typewriter at the third wall.
Note!

It is most convenient in this arrangement to use a machine with a vertical load of laundry.
As a rule, the owners of a small bathroom install a shower cabin. Light colors are used for the design, because they visually add square meters to the bathroom.
Interior of a bathroom with a shower in light colors
The most popular design option for a small room is white. But pure white is associated with the surgical department of the hospital. Therefore, the interior is diluted with colorful and even dark decor elements. Along with white, the use of beige shades is quite common.
Note!

A light pastel palette creates an atmosphere of warmth and comfort, and also has a beneficial effect on the emotional and psychological state of a person.
It is possible to diversify the color scheme if the shower cabin is in a room without a toilet bowl. Then laundry baskets, hanging shelves, accessories will succinctly fit into the interior. The beige interior has winning color combinations:
pale pink;
light scarlet;
golden;
light brown.
In a bright room, large mirrors, glass shelves and transparent shower doors look chic and add a sense of infinity.
The choice of bathroom design style depends on the tastes of the owner. Someone decorates the entire apartment or house in a single style. Others prefer to decorate the bathroom completely differently, based on the fact that a change of scenery is the best vacation. There are enough options for design solutions in both the first and second cases.
Useful tips and design solutions
How many people, so many ideas for decorating space. But some rules remain unchanged:
small bathrooms are decorated in a minimalist style;
larger rooms subjugate any style.
On a note!

The classic style is widely preferred in the design of the bathroom. Despite the abundance of various modern designs, people prefer the good old classics.
Most popular styles:
Classic. As a rule, light colors are used, in harmony with the usual white bathroom and sink. Light fixtures with crystal elements, heavy vintage mirror frames give an elegant look.
Loft. This style in the interior is a trend of the last few years, as it combines the negligence of wall decoration, retro accessories and modern furniture and appliances.
Scandinavia. Scandinavian style is imbued with simplicity and everyday human needs, which combine minimalism with comfort. In this style, a modern shower cabin is easily combined with handmade rugs. Bright color accents will give a feature to the interior.
Provence. The most romantic style of bathroom design. A small floral print or floral ornament of the floor tiles against the background of plain walls, decorated with textile elements and designer lamps, mentally immerses you in a trip to Paris.
On a note!

When choosing a material for finishing a bathroom, it is necessary to remember about temperature differences, humidity and hygiene of the room.
Tips:
Waterproofing helps not to flood neighbors and protects against mold, fungus in case of leakage. Therefore, it is recommended not to save on it.
Access to pipes must be left, even if they are expensive and of high quality. So that in the event of an accident you do not have to redo the repair, it is better to leave communications open. As an option – disguise it as a locker or cover it with roller shutters.
Cement mixtures should be preferred and gypsum mixtures should be completely abandoned. The latter absorb water, causing the plaster to swell and the tiles to fly off.
For the floor, choose a tile with a rough surface or porcelain stoneware. The use of glossy tiles is traumatic.
To avoid excessive moisture and unpleasant odors, you should pre-mount the hood.
A bathroom is not just a room, it is an environment for a whole ritual of procedures. This is where the day begins and ends. A well-chosen bathroom style will wake you up and give you energy in the morning, as well as relax and set you up for a restful sleep in the evening. Repairing a bathroom is expensive, but interesting: every element is important in creating a new interior. Thinking through the design of the bathroom, it is important to remember the words of Sylvia Plath: "There are few sorrows in the world that a hot bath does not cure."